Culture
An Interview With Ali Al-Baddah and His Journey With Arabic Calligraphy
Written By THE AVENUES INSIDER
18 Dec, 2022
Artist Ali Al-Baddah discovered his talents at a young age when he created his first calligraphy painting on the wall of his room kickstarting his creative journey in the world of calligraphy. Through his paintings bursting with art, colors, and textures, he paved the way and represented Kuwait in national and international forums to prove the fact that the art of calligraphy is in fact, not a rigid art.
The Kuwaiti artist was able to leave his mark in many notable locations with his paintings which include verses from the Holy Qur'an, poetry, and some proverbs, where two of his artworks have adorned his Highness in his office in Seif Palace.
And on the occasion of Arabic Language Day, we sat with the talented artist and calligrapher to know more about his journey in the world of Arabic calligraphy.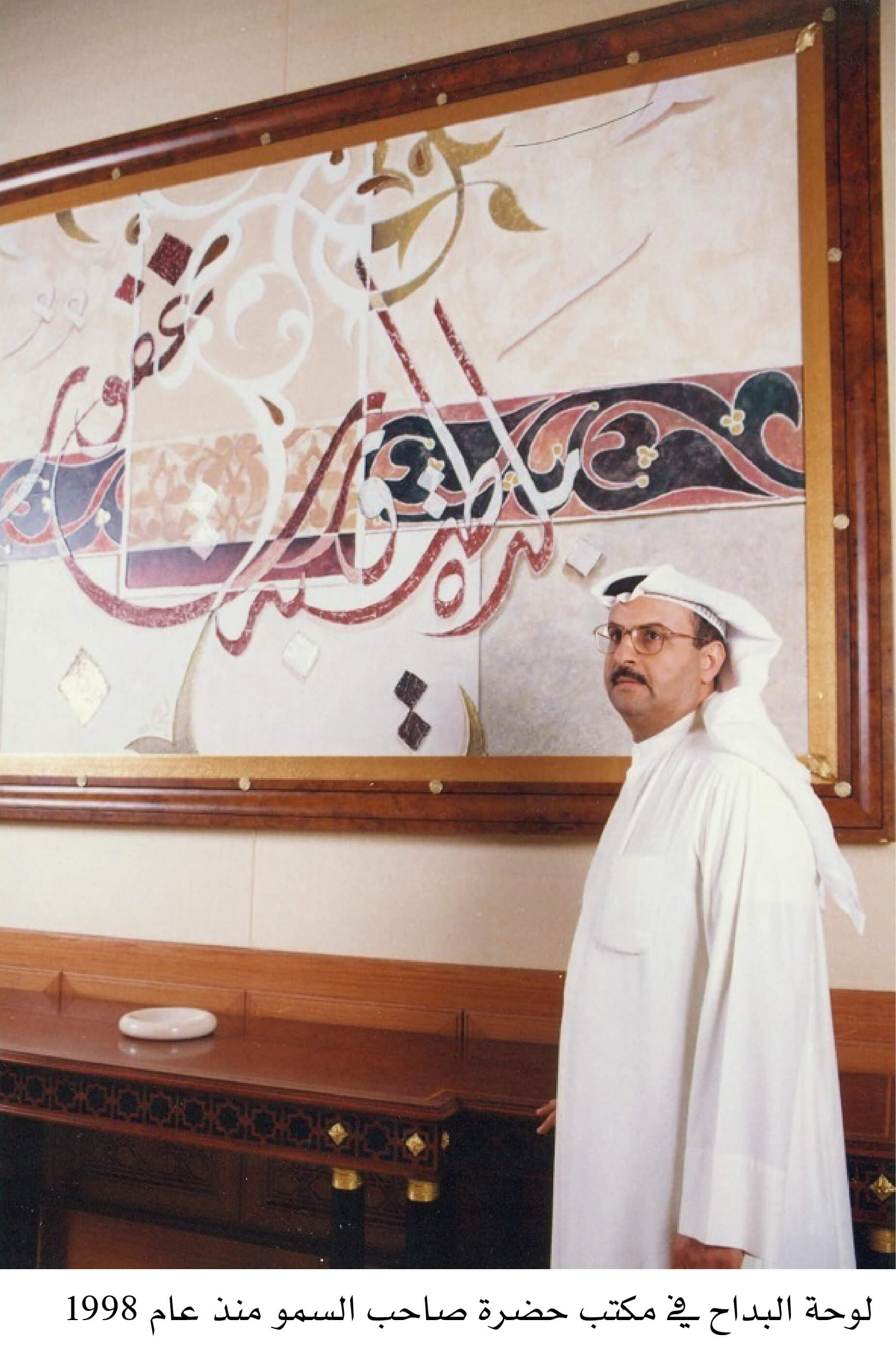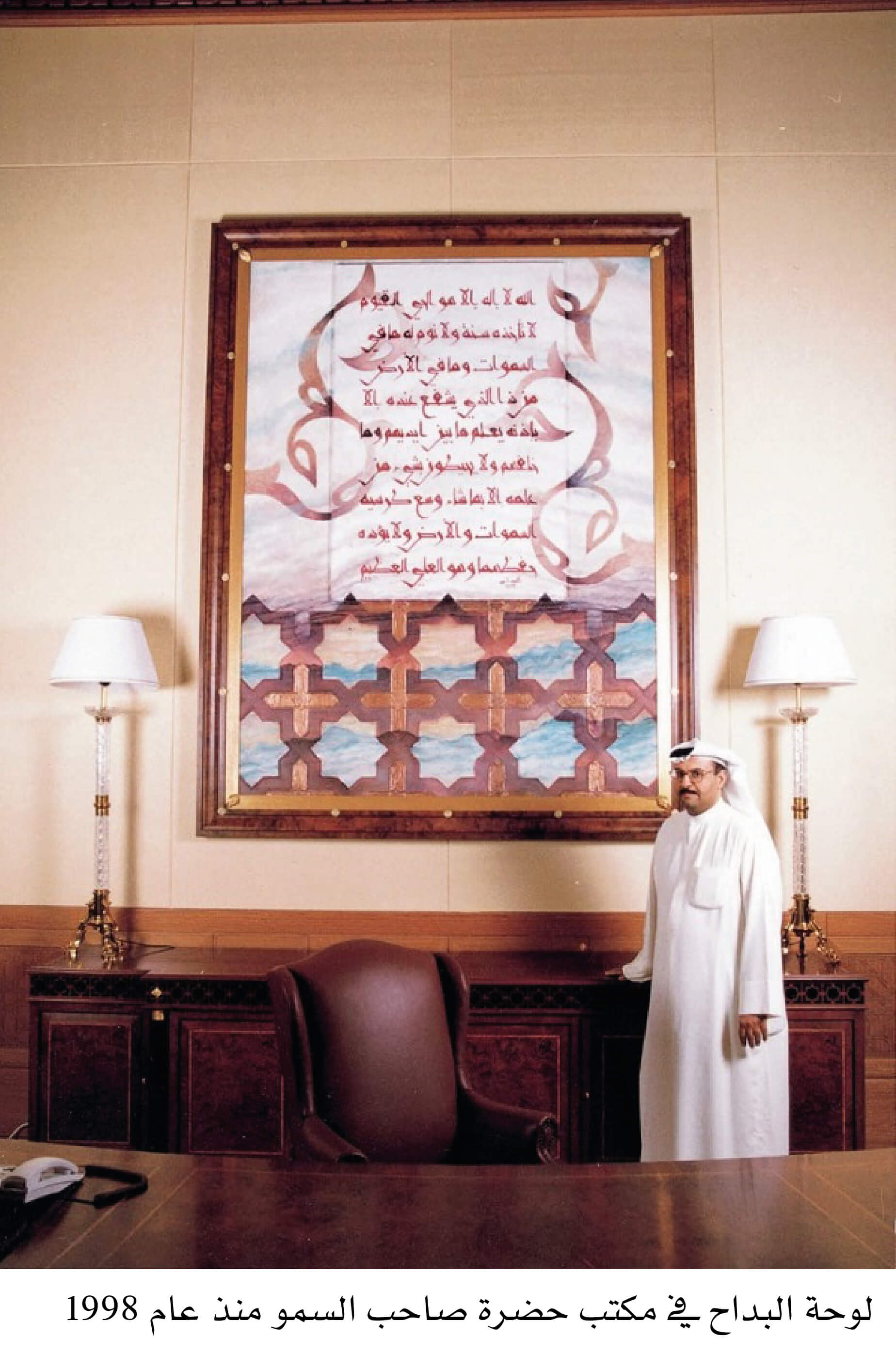 1. Tell us about the beginning of your journey with Arabic calligraphy.
My father, may he rest in peace, was one of the most notable educators in Kuwait; he started as a teacher and then became a principal during his 42 years of work in the field of education. In addition, his father's uncle, Abdulaziz Al-Rashid Al-Baddah, was the first Kuwaiti historian who authored the history of Kuwait, which resulted in my father growing up in an environment that cares about the Arabic language, not to mention his handwriting was beautiful, so I grew up in this rich environment as well.
One day when I was in the first grade, and since I was a distinguished student, I received a certificate of excellence on Flag Day, which my father hung in my room to encourage me. My certificate was written by Mr. Abdelghany Al-Afocato, a teacher who wrote all of our certificates; I tried to imitate his handwriting and ended up writing " Al-Rasheed School decided to grant the student, Ali Abdulrahman Al-Baddah, the Excellence Award" on my wall, as I finished, I found my mother and father standing behind me watching me write, I definitely believed that my strict father would hit me, but I was surprised when he praised my handwriting to my mother.
That's when my father decided to find the best Arabic teachers to teach me the basics of the Arabic language, they had beautiful handwriting, and I learned a great deal from them as they were the reason I fell in love with calligraphy. As I grew up, I began looking for books about Arabic calligraphy until I reached Hashem Al-Baghdadi's pamphlet which taught me all about the rules of Arabic calligraphy.
2. What sparked your interest in Arabic calligraphy?
The first reason was my father's encouragement and efforts in providing me with distinguished teachers in Arabic calligraphy. I've also felt that Arabic calligraphy helped me highlight my identity as a Muslim and an Arab.
3. You said that your children inherited your beautiful handwriting, did they also follow your path in Arabic calligraphy?
No, although their handwriting truly is beautiful, one of my kids majored in finance and the other in accounting, and now, with work and life, their interest in Arabic calligraphy has diminished.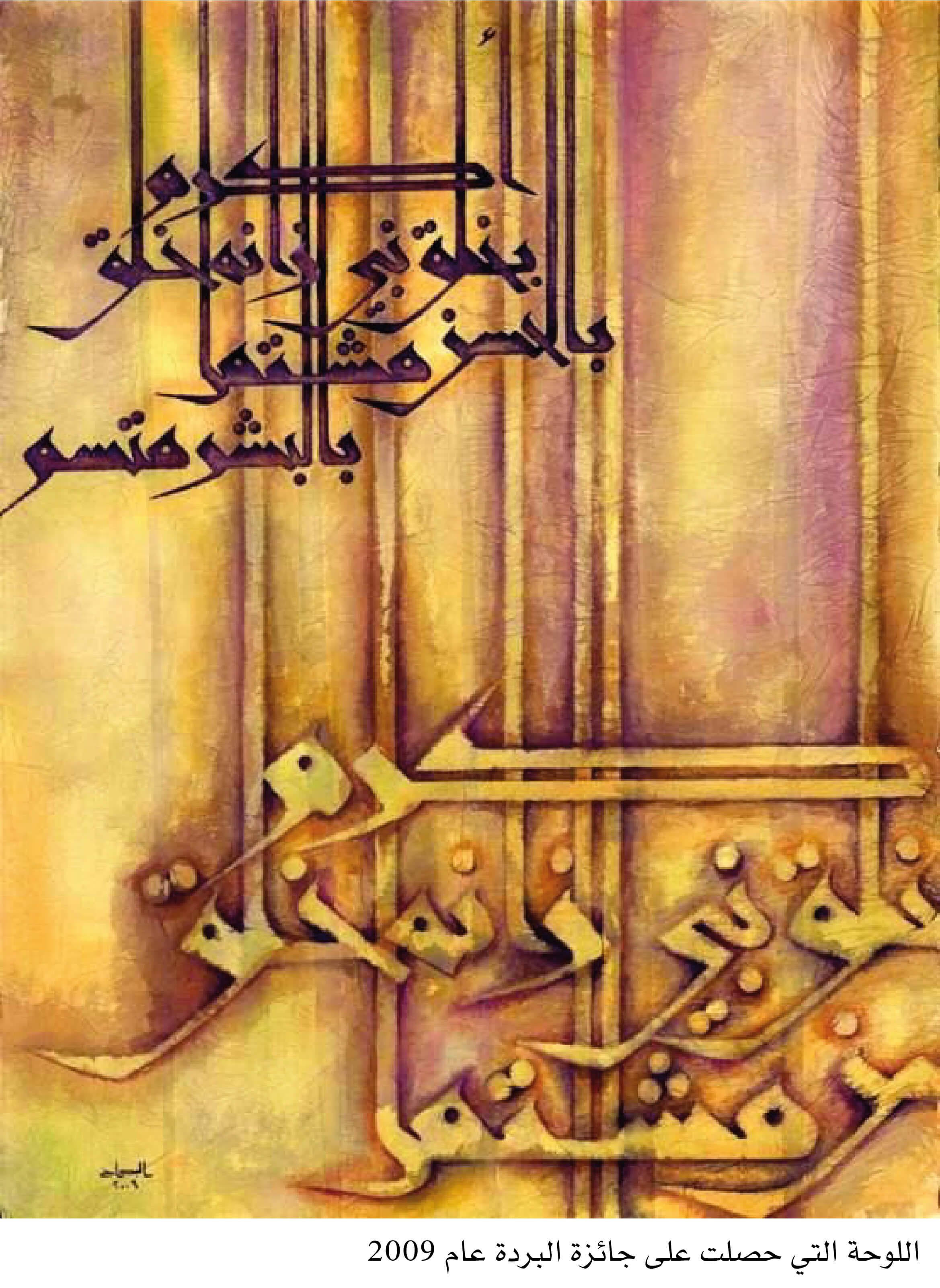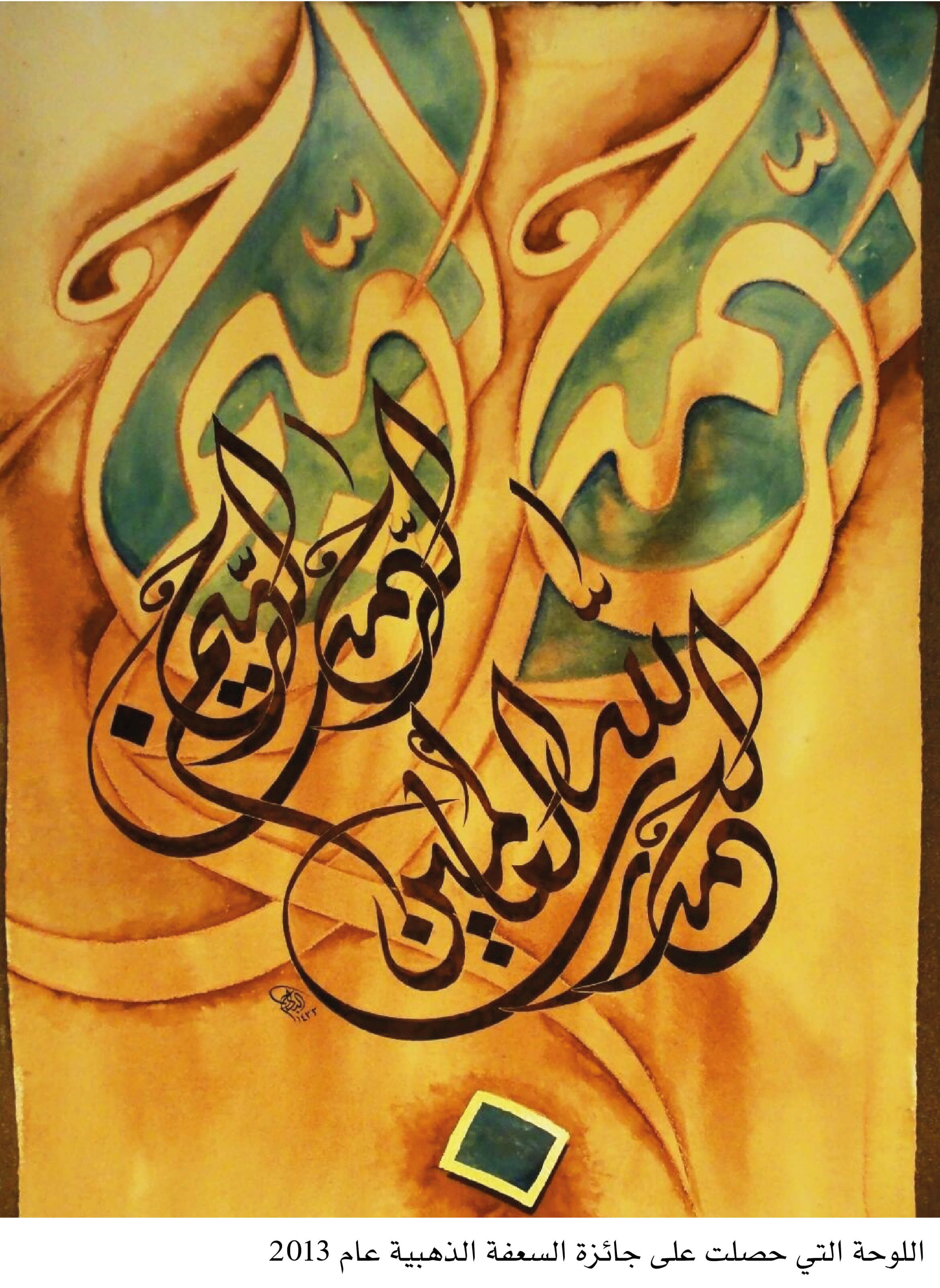 1.    Is calligraphy dominated by men?
There is a large number of distinguished female calligraphers, and I must note that women are actually more accurate and patient than men, that is why women have historically stood out in the art of decoration, while calligraphy requires more strength and steady hands, therefore men have naturally stood out in the art of calligraphy, but this does not mean that the art of Arabic calligraphy is reserved for men, or that the art of decoration is reserved for women.
For example, I established a unit of Arabic calligraphy artists from the Gulf region and launched the "Irth-Kuwait" group in 2019, which includes 7 men and 7 women.
2.    A piece of advice for young men and women who are considering specializing in Arabic calligraphy.
I tell them that Arabic calligraphy requires practice and patience and that they must deal with calligraphy with love because everything that is done with love will be perfected.
3.     Can anyone with beautiful handwriting become a calligrapher?
There is a difference between the art of Arabic calligraphy and regular writing, as most calligraphers do not have beautiful handwriting in regular writing, so there is no relationship between good handwriting and the art of Arabic calligraphy.
4.     Do you believe Arabic calligraphy receives enough attention?
Definitely not enough. Not only does Arabic calligraphy need more attention, but more attention should also be given to teaching calligraphy in schools, taking better care of Arabic calligraphy pamphlets, and just like there are classes such as art, physical, and music education, there should also be calligraphy classes.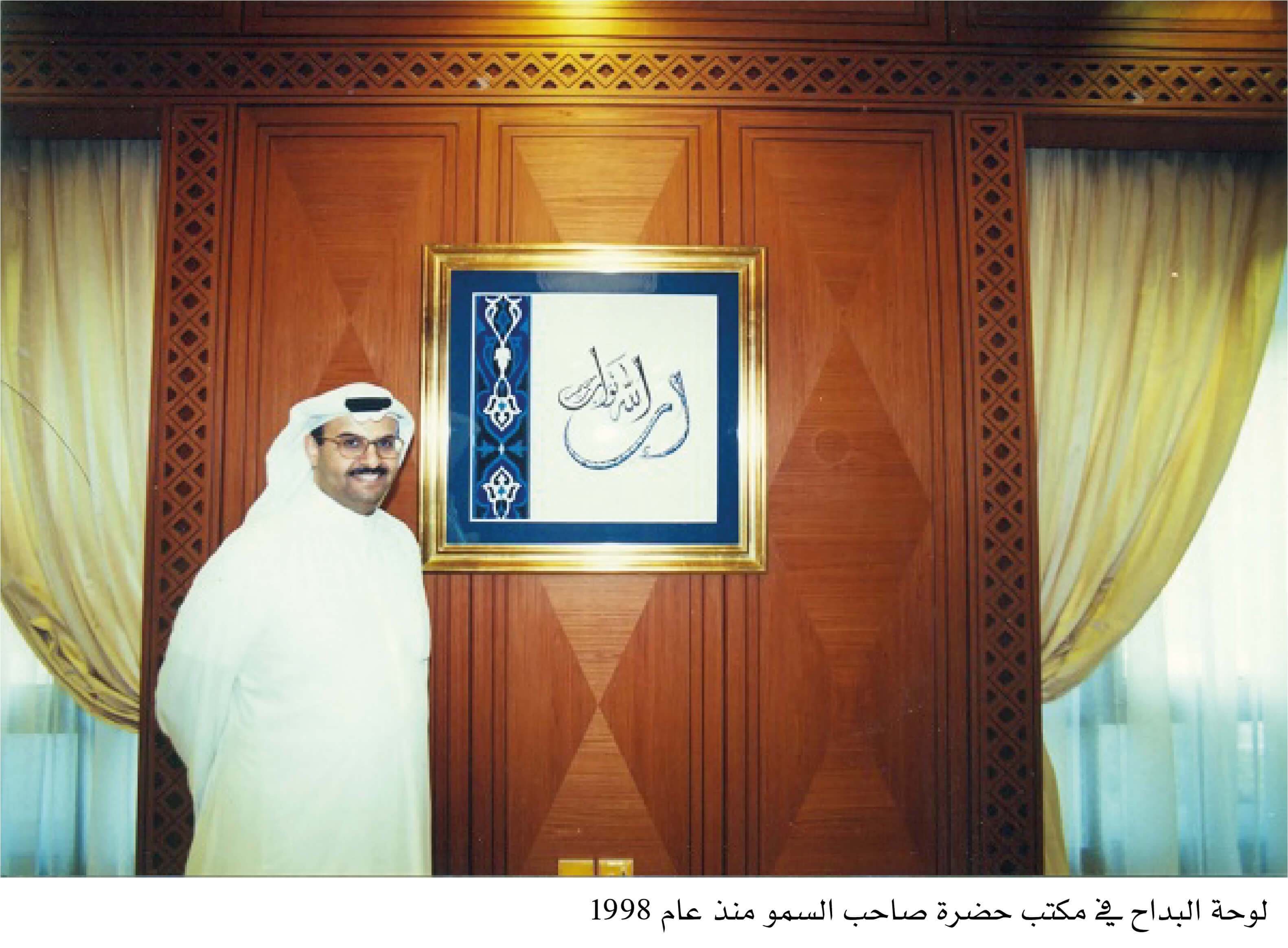 1. Is there a demand for Arabic calligraphy paintings?
Yes, and this demand is not limited to Arab countries! There are many admirers of Arabic calligraphy paintings in foreign countries as well.
Among the paintings which I am most proud of, are two paintings that have been hung in the office of His Highness the Emir in the Seif Palace since 1998.
2. Tell us about the exhibition that will be held in The Avenues in December.
In celebration of Arabic Language Day, the "Irth-Kuwait" group and I will hold the "Arabic Language Days" exhibition in The Avenues, from December 24th until 19th. This exhibition will display many Arabic calligraphy paintings, as well as live workshops for visitors, adults, and children!
3. Tell us about the most important awards you have received.
I remember the first prize I received in 1983 from the first exhibition of Arabic calligraphy at Kuwait University and I won the first shield and the golden feather award, in 1986 I got the first shield from the second exhibition of Arabic calligraphy from Kuwait University, in 2001 I got the Bronze Palm Award in the Sultanate of Oman, in 2013 I won the Golden Palm Award in the Sultanate of Oman as well, in 2002 I won an award in Iran from among 3150 paintings and 2100 calligraphers from 48 countries, and only 30 people were chosen, including me, in 2004 I got first place in calligraphy Al-Arabi in the first Al-Kharafi Biennale of Arts, and finally in 2009 I participated in a festival in Abu Dhabi that no Gulf had ever won at the time, and I won the Al-Burda Prize.