Talents
Meet Suleiman Alenzi, an Artist on His Way to Stardom
Stardom From regular art to drawing with sand and light, artist Suleiman Alenzi tells us about his journey as the only Kuwaiti artist who masters this rare type of art!
Written By The Avenues Insider
08 Dec, 2021
Suleiman Alenzi is a young artist whose passion for drawing guided him to an unusual type of art, drawing with sand and light. He's done numerous live shows, where he shows off his talent as the only Kuwaiti artist who masters a rare type of art, such as the Kuwaiti pavilion at Expo 2020 Dubai for the Emirati Probe of Hope trip, which attracted great attention and was praised by visitors.
The Avenues Insider met with Suleiman Alenzi, who spoke about those who encouraged his passion, his dreams of reaching international fame, joining "Arabs Got Talent", and more!
Tell us a little about yourself
My name is Suleiman Kamal Alenzi, an artist who specializes in drawing using sand and light but also enjoys regular drawing, as well as photography.
When did you discover your talent for drawing, and how did you develop it?
When I was six years old, my school drawing teacher noticed my talent. She gifted me a drawing book and coloring pencils to encourage me and was impressed when she saw my drawings. After that, my friends and family started encouraging me and with continuous training, my talent developed.

You're famous for your sand and light drawings, Tell us more about it.
When I turned 20, I became interested in discovering new types of drawing and got acquainted with the art of drawing with sand and light outside of Kuwait. Since there were no courses or centers to teach this type of art here, I trained myself until I became an expert in drawing with sand and light. I later found a lot of people interested in this type of drawing especially, and I began receiving many requests.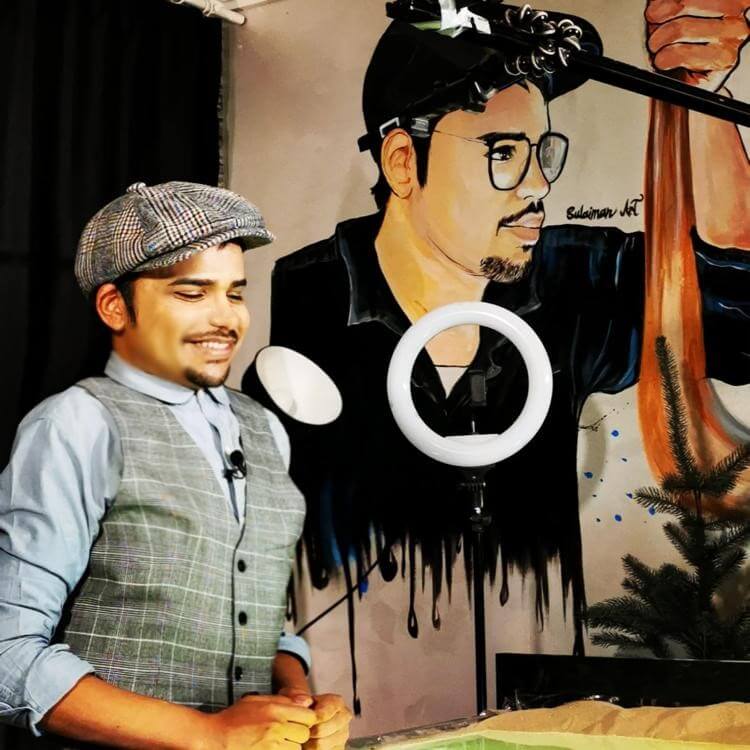 Tell us about your participation at the Kuwait Pavilion at the 'Expo 2020 Dubai', when you drew the Hope Probe.
My participation in the "Expo Dubai 2020" was through the Kuwaiti Ministry of Information, where I did numerous shows and used my art to tell stories.
The artwork that I presented to the beloved UAE was a drawing with light talking about the journey of the "Probe of Hope" launched by the UAE, and the rocket when it left the earth and reached space. I was delighted to see a great turnout and such positive feedback, I felt very proud to be the first Kuwaiti and Arab artist to paint with light and present this rare type of art in the exhibition.
Most of your drawings raise awareness, is that the intention of your art?
Most of my drawings are of an awareness-raising nature, where I discuss social issues and address important local, national, and internal events, and present them in form of drawings with music and sound effects.
Did you think of doing training courses?
I plan to offer training courses in the future, and I prefer for these courses to be aimed towards children more than adults, because children love to play with sand and draw, so this would be an excellent opportunity to teach them this kind of art.
Do you use regular or a special type of sand?
You could use any type of sand, but it needs to go through a special type of filtration stage before being ready to be used for drawing. You can find different colors of the sand used for drawing available for sale in bookshops. 
Tell us about your participation in "Arab's Got Talent"
I will be participating in "Arab's Got Talent" in its seventh season, God willing. I am still waiting to be informed of my travel date to Lebanon to begin the program.
What other competitions did you participate in?
I participated in many competitions inside and outside Kuwait. One of my most memorable competitions was the "Abboud" exhibition for Kuwaiti inventors and artists, where I got a car as a prize.
What are your dreams and aspirations as an artist?
I dream of participating in international art exhibitions and being known as a Kuwaiti painter who masters a rare kind of art. I also dream of transforming children's enjoyment of playing with sand into an artistic talent.