SPEAK UP is The Body Shop's powerful new lip collection for bold and vivacious beings. Four powerhouse shades for brave lips that aren't afraid to stand out and speak up.
The new Vinyl Lip Glosses are a symbol of courage and strength. Dame Anita Roddick, Founder of The Body Shop, believed that inner beauty comes from joyful energy, self-esteem, and attitude to life.

She believed in products that empower every person's beauty and confidence because "beauty is an active, outward expression of everything you like about yourself." And it's this ethos that has influenced The Body Shop's expressive new lip range. When it comes to lipstick, it isn't just another makeup choice, it's a symbol of confidence and self-love. So, wear the red lip. Take up space. Speak up. And speak your truth.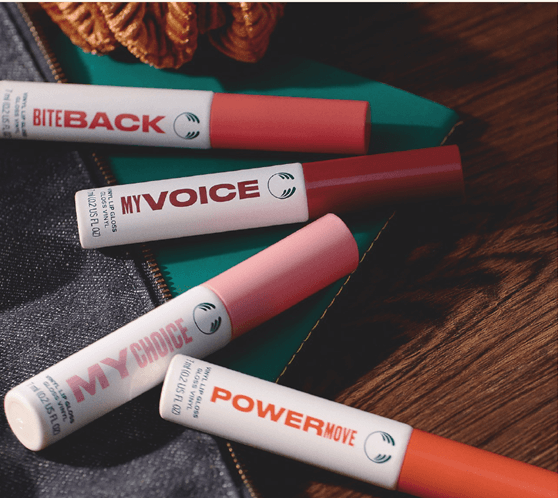 LET YOUR LIPS DO THE TALKING
The Body Shop is proud to introduce SPEAK UP Vinyl Lip Glosses, their new, vegan limited edition lip range. Boasting four bold shades – MY CHOICE, BITE BACK, MY VOICE, and POWER MOVE – each with a vinyl semigloss finish, these lip glosses are here to help empower your beauty and help you feel strong and confident. Made with 94% natural origin ingredients, including vitamin E, they help moisturise and care for your lips while providing long-lasting colour. And unlike a typical lip gloss, they feel moisturising and non-sticky.
Thanks to their medium to light coverage and buildable colour intensity, you can choose how bold you want to go. MY CHOICE is a bold blush pink; BITE BACK is a vibrant coral; MY VOICE is a deep berry red; and POWER MOVE is a fiery orange. Each has been designed to give you that little nudge of inspiration and confidence to stand up for what you believe in. Just like Dame Anita Roddick. So, wear the gloss with confidence and feel unstoppable.